Here are some photos from the launch of the We Gather exhibition, which was on at the Crafts Council Gallery until 12 March 2022. The exhibition was commissioned by the Craft Expertise project funded by the Arts and Humanities Research Council, and features new work by Shaheen Ahmed, Lorna Hamilton-Brown, Omeima Mudawi-Rowlings, Francisca Onumah and Onome Otite. The exhibition was curated by Rosie Ross and Griffi.
Images of artists at the private launch were taken by Jessica Pierre-Ross. Main image (above) by Ben Deakin.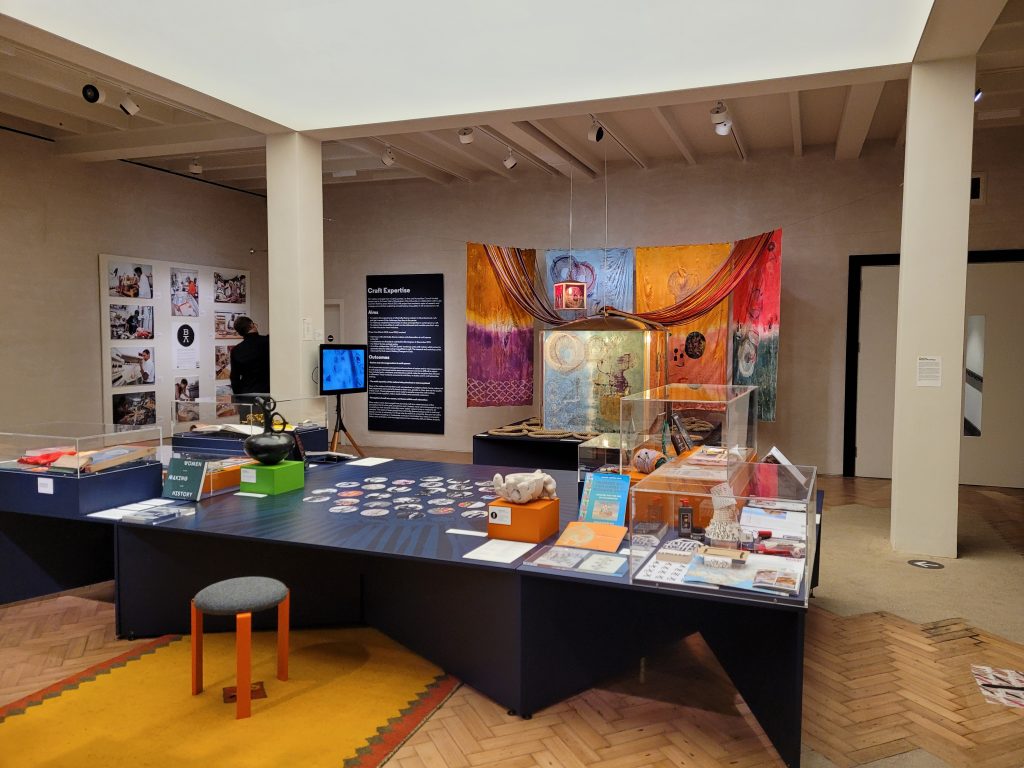 Here are some of the visitor comments. A huge thanks to everyone who visited the exhibition.
Thought provoking. Thank you for providing space to unique perspectives. To the artists and makers involved I feel seen and encouraged to keep exploring and expanding my own creative practice. 17.11.21
Being a black British woman, it is refreshing to see representation […] Amazing work, beautiful art.
Amazing exhibition such a wide variety of crafts but also backstories. I had an understanding of the racism and microaggressions POC's faced in this industry. But I learned so much and very insightful to hear first-hand experiences. I loved that there were items displayed from artists' studios I've never really seen that before. It's been great to see such a range of different craft types in one space and got to know about these amazing women and their work. Polly 25.11.21
WONDERFUL – Thank you artists for inspiring my boring food shopping day. The art sings sweet songs of joy and fab creativity forged from the cauldrons of racism. Prof Bell Hooks would applaud.
Beautiful work and really informative exhibition. It is so important that we as consumers as well as the craft community talk about how people of colour are excluded, and it needs to change […] I will definitely visit again. Jessie 21.1.22
A stunning and timely exhibition that is as inviting as it is challenging. I would love to see more of this. Thank you for such a rich exhibition. Kit
This is my second visit to this lovely lovely exhibition. Bravo!! Rona 26.01.22
Thank you for such a fine, rewarding and exceptional exhibition, so enlightening. It so highlights the need to promote and bring these and so many other great artists in all forms and disciplines from the women of black and Asian heritage. All so inspiring and has given me far more awareness. Wanting to shout from the rooftops 😊 Hoping to return to see MUCH more of these great female black and Asian artists. So much to give and so much phenomenal talent. 
With the Global Majority Action Group at Crafts Council we are planning a We Gather follow-up event, more details soon.